To get the Infrarium up and running a lot of work has to be done. Starting with an empty container provides a base to mount everything to. A wooden framework makes it easy to make nice panelized walls. On many of the panels we can choose to put things like screens, buttons, sockets and decorative items. Behind the panels there is room for cables, a computer, an audio system, circuit boards and more. Sound proofing on the ceiling and the area in the back, which holds the larger machines needed for operation, makes it a more pleasurable experience for the users of the Infrarium.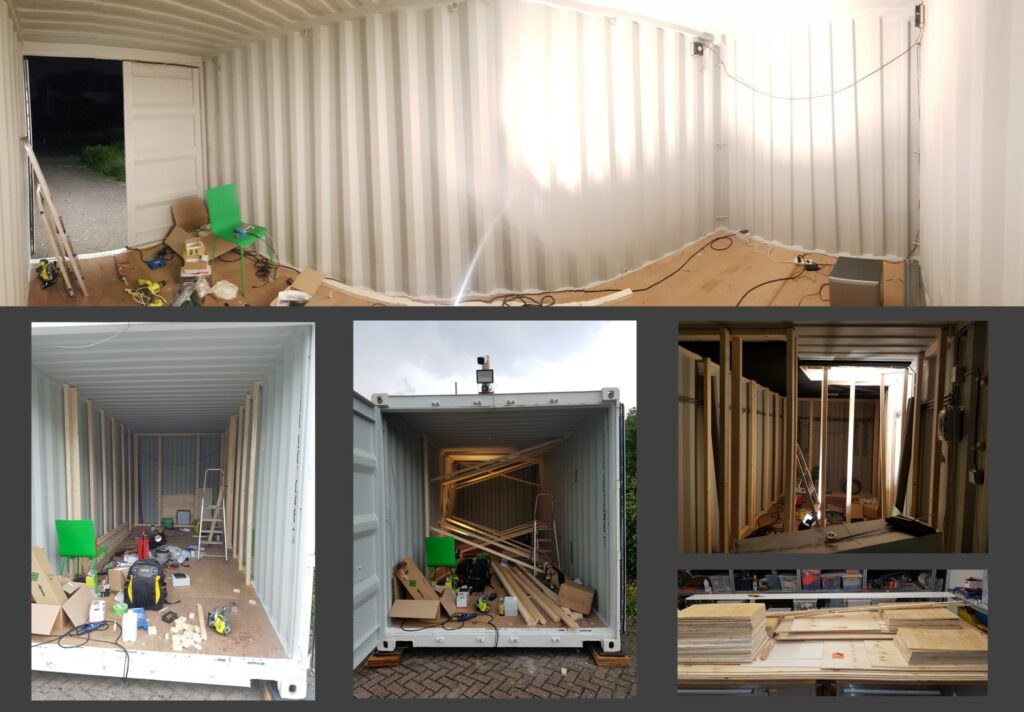 The Infrarium has to be safe too. All of the bare wood is treated with a fireproofing solution, a fire extinguisher and a first aid kit is provided and a ventilation system which sucks out air above the players in each section is to be installed. The electrical installation is protected by multiple residual current circuit breakers.
Decorative items are being collected from different sources. Siemens has already donated some nice EV charging stations which holds very nice parts we can re-purpose for the Infrarium. Some things came from my personal collection, other parts are found on marktplaats, but we need some more! Especially things we could use to make parts of the container look more like an HV power plant Nicola Tesla could have built. Some HV insulators, big knobs, things like that. The other parts have to look like an old oil refinery control center and a harbor control center. It does not have to be modern or accurate, parts that even slightly may add to the overall scene are welcome too! And some heavy cables/hoses and electrical/air/hydraulics/liquid connectors and sockets are extremely welcome.

Hardware and software has to be designed to make interaction possible. An array of circuit boards, connected by an RS-485 bus, can drive LEDs, displays, the audio system, analog meters and more. It also reads out buttons, switches, dials and connected cables. A set of python scripts on the workstation will handle all this data and connects to the scientific model. It also will show progress data on a screen. The screen will help the players in keeping track of what they are doing and it will show what the consequences are of their decisions made during the game.